It is true, we do have a new baby. Freddie Alexander was born 25th August 2011.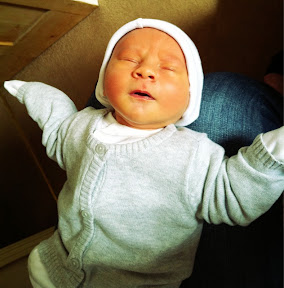 I know this is supposed to be a blog primarily about food but to be honest, Fred is primarily about food himself. He eats incessantly, insatiably & indiscriminately of time of day. It's difficult to know if you're doing the right thing with a week old baby as they have no real way of communicating the reason for their crying & discomfort. They just cry & seem dis-comfortable.
I'm thinking I may create a new Freddie diary blog to document all this.
We shall see.
I also need to review some loose leaf tea kindly sent to me by Little Chef, though presently, I tend to drink the strongest coffee available, dictated to & by Freddie's insatiable appetite and unsociable time keeping.
Oh and also, today would be the 65th birthday of one Freddie Mercury, whom our Freddie is partially named after (along with Frederick Chopin, Freddie Fender & Freddie Flintoff)
Yawn..........
- Posted using BlogPress from my iPhone