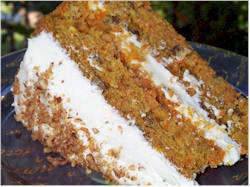 Here is a recipe for my girlfriend Laura's carrot cake. This is very popular in our house, so much so, she has made it 3 times over the last 2 months. It's rich, very big, very moist and tastes fantastic. She takes the recipe from her mum back home in College Station, Texas. I hardly need say that when a

mum

recipe shows up, it should be seized with both hands. What is it with mums' and their recipes? They're always too rich, too filling and too good.




What you will need:

2 cups all-purpose flour
1/2 cup pecans or walnuts





The Cake:



Combine all ingredients, except the last two, blending thoroughly. Fold in the carrots and pecans. Pour into three
round

cake

pans that have been greased and floured. The cake pans won't look very full (maybe at 1/3 to 1/2 depth) but don't worry! Bake at 300 degrees Fahrenheit (150 Celsius) for 40 minutes, until toothpick comes out of center clean. Err on the side of MOIST. Let cool completely (while still in the cake pans) before removing or frosting!!


For the Frosting:

2 parts cream cheese
1 part unsalted butter
2 tsp. vanilla extract
Lots of icing sugar (sifted so you don't get clumps)


There are many recipes for cream cheese icing out there. Whichever one you use, I recommend doubling it so you have LOTS of the good stuff to lather up your cake (and you'll inevitably want to lick up lots - as will anyone else in the house). Generally you'll need a large block of butter and two large packs of cream cheese. Set out these the previous night so they're nice and soft, then cream together thoroughly and add vanilla. (Almond extract also adds a nice touch at this point - play with it if you wish.) Have a couple of large boxes (or bags) of the icing sugar, then mix in with the cheese/butter mixture until the right consistency is reached. Remember, you want it nice and creamy, but JUST thick enough so it will stick to the sides of the cake without dripping down. When you slather it on, BE GENEROUS. Optionally, garnish the finished cake with walnuts/pecans/etc.


x